Autodesk® Storm and Sanitary Analysis is an advanced, powerful, and comprehensive hydrodynamic modeling package available for analyzing and designing urban drainage systems, stormwater sewers, and sanitary sewers. It can handle a variety of complex flow situations such as looped networks, interconnected ponds, and pumps. In addition, Autodesk® Storm and Sanitary Analysis can model all aspects of stormwater quality/quantity and incorporates best management practices (BMPs), including support for all CULTEC, Inc. storage chambers.

PondPack is a FEMA approved software program for detention pond design and hydrology modeling. Users can model rainfall and runoff from urban and rural watersheds to design detention and retention facilities, outlet structures, and channels.
PondPack V8i includes support for a Storage Chamber System pond type which makes it easy for designers to model CULTEC stormwater chamber systems. In addition, PondPack V8i ships with CULTEC chamber data built-in so designers can select their preferred chamber type from a library – saving laborious manual data entry.
Clear Creek Solutions (CCS) has added the CULTEC element to all of their WWHM‐based stormwater software programs to represent the Contactor and Recharger Series chambers retention and detention storage systems by CULTEC. This includes WWHM‐SWMM National Version (lower 48 states), WWHM2012 (Western Washington), BAHM2013 (San Francisco Bay Area), SDHM 3.1 (San Diego County, CA), SOHM (South Orange County, CA), SMRHM (Santa Margarita Region, Riverside County, CA), SAHM (Sacramento County, CA), SalinasHM (City of Salinas, CA), and TRUST (Clean Water Services, Washington County, OR), except where inclusion is not allowed by the funding agency.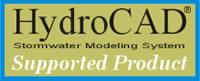 HydroCAD® is a Computer Aided Design tool used by Civil Engineers for modeling stormwater runoff. CULTEC Chambers are now modeled in HydroCAD.
There is a FREE SAMPLER available to check out the software.
Also, CULTEC Clients can receive a 10% discount by entering CODE "82CULTEC10" when purchasing the full version of the software.
HydroCAD provides a wide range of commonly used drainage calculations including: SCS, NRCS, SBUH runoff hydrographs,rational Method with automatic IDF curves,hydrograph routing through ponds & reaches, coupled ponds with automatic tailwater,automatic hydraulics and culvert calculations,automatic pond storage calculations, including embedded storage chambers, & easy management of multiple rainfall events. HydroCAD is ideal for studies using the TR-20, TR-55, or SBUH methods, and may be used in conjunction with HEC-1, HEC-2, HEC-RAS, and HEC-HMS calculations. HydroCAD® provides a wide range of standard H&H techniques in an easy-to-use graphical form. The chamber wizard feature provides automated layout, modeling, and cost estimating for underground storage systems. Just pick the chamber and set the layout parameters. Or use preset layout values from the extensive library of chamber definitions, including all CULTEC products.
Not only is CULTEC is the front runner for new product designs, we are also the first chamber manufacturer to strategically align with the developers of hydrology modeling software to incorporate and support plastic chamber structures. We are constantly striving to make the engineering community's stormwater design phase as easy as possible for our clients.
The HydroCAD provides direct support for all CULTEC storage chambers. Although HydroCAD is generally used to perform a complete watershed analysis, it can also be used to perform quick storage calculations for any configuration of storage chambers, including the effects of a stone bed of any shape or size.
Free HydroCAD CULTEC Edition Now Available
CULTEC is pleased to offer the special HydroCAD CULTEC Edition to its customers absolutely free of charge. With the CULTEC Edition you can construct basic watershed models of up to 5-nodes, including complete storage, runoff, and routing calculations using CULTEC chambers.
Note: Since the CULTEC Edition will replace any previous HydroCAD installation on your PC, existing HydroCAD users should generally obtain a version update in order to retain all the capabilities of their existing software.
Want to purchase the full version of HydroCAD?
Special HydroCAD Discount for CULTEC Customers on full HydroCAD:
Be sure to use our discount code: 82CULTEC10 to receive a 10% discount on your new system software when you place your order for HydroCAD Stormwater Modeling System with HydroCAD Software Solutions, LLC at 603-323-8666 or hydrocad.net.
CULTEC does not sell this software. Please contact HydroCAD Software Solutions, LLC directly.

ICPR is a comprehensive stormwater modeling tool listed with the Federal Emergency Management Agency as a Nationally Accepted Hydraulic Model. ICPR includes an interactive utility to calculate stage-area and stage-volume relationships based on manufacturers' geometric data for various underground stormwater chambers including CULTEC's full line of chambers. Once the user settles on a design, the appropriate storage characteristics become part of the overall stormwater model for subsequent hydraulic routing analysis.
We are able to assist you in your design by performing preliminary calculations and supplying AutoCAD layouts free of charge