What's New At CULTEC, Inc.
Thank you for visiting our website. You will see many literature pieces and tools available on our Download page.
ADVANCED DRAINAGE SYSTEMS ANNOUNCES ACQUISITION OF CULTEC INC.
HILLIARD, Ohio – (May 2, 2022) – Advanced Drainage Systems, Inc. (NYSE: WMS) ("ADS" or the "Company"), a leading provider of innovative water management solutions in the stormwater and on-site septic wastewater industries today announced the acquisition of Cultec, Inc. ("Cultec"), a family-owned technology leader in the stormwater and on-site septic wastewater industries.
"Bob DiTullio Sr. founded Cultec in 1986 based on innovative technology, engineering expertise and a dedication to customer service. Since then, Cultec has continued to build a strong reputation with a growing group of engineers, distributors and contractors," said Scott Barbour, President and Chief Executive Officer of ADS. "Today, Cultec designs and sells plastic chambers and related products into the stormwater and on-site septic markets. Their products expand ADS' portfolio of solutions, enabling us to meet the growing and evolving needs of our customers. In addition to a complementary portfolio of products, we share similar values, including our common commitment to protecting the world's most precious resource, water. We welcome the entire Cultec team to ADS and look forward to our partnership moving forward."
Cultec is a family-owned plastic stormwater and septic chamber company headquartered in Brookfield, Connecticut.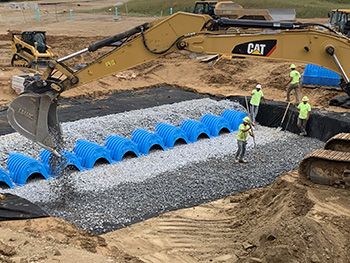 Check out some projects we've been used on and how we were able to provide solutions.
Archived Newsletters
Sign up for our newsletter to keep up to date on all that is CULTEC
We are able to assist you in your design by performing preliminary calculations and supplying AutoCAD layouts free of charge