What's New At CULTEC, Inc.
Thank you for visiting our website. You will see many literature pieces and tools available on our Download page.
CULTEC COVID-19 Update
March 23, 2020: We are open for business. Phones have been re-routed to remote employees as a majority of our staff shelters at home. As of today, Shipping and Receiving hours remain unchanged and will operate during normal business hours of 8 AM – 4:30 PM ET. Please read our full update here.
ASTM F3430-20 – CULTEC Achieves a Published ASTM Product Standard
CULTEC, Inc. successfully balloted a newly approved and published ASTM product standard, designated as ASTM F3430-20, Specification for Cellular Polypropylene (PP) Corrugated Wall Stormwater Collection Chambers.
This new standard defines the requirements for PP chambers manufactured by the structural foam process, which produces chambers with a cellular wall. Since this was the first product of its kind brought before the ASTM Committee F17 on Plastic Piping, CULTEC went the extra mile to incorporate innovative testing and inspection processes into the standard to ensure consistent quality products.
Read full article
Watch video presented by Michelle Zwick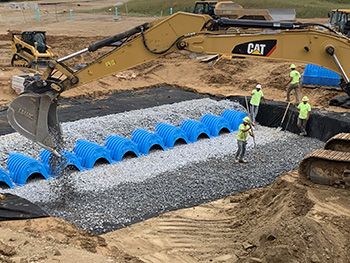 Check out some projects we've been used on and how we were able to provide solutions.
Archived Newsletters
Sign up for our newsletter to keep up to date on all that is CULTEC
We are able to assist you in your design by performing preliminary calculations and supplying AutoCAD layouts free of charge