Modeling Tips For PondPack® V8I

Build Updates For Pondpack Available
March 8, 2012: We're happy to announce that Bentley has released a new version of PondPack V8i (Build 08.11.01.56) that is now available for download on Selectservices.bentley.com, for SELECT subscribers. The new release now includes:
-Full support and certification for AutoCAD 2012 (32-bit) and MircoStation V8i SELECTseries 3 (build 08.11.09.xx)
-Updated detention chamber data from CULTEC in the engineering libraries. Now including the Recharger 150XLHD and Recharger 900HD.
-All the patches that were done since the previous release (Build 08.11.01.54).
Additional compatibility information can be found the Readme file included in the installation executable.
Modeling Cultec Stormwater Chamber Systems In PondPack®
Click here for printable version
PondPack is a FEMA approved software program for detention pond design and hydrology modeling. Users can model rainfall and runoff from urban and rural watersheds to design detention and retention facilities, outlet structures, and channels.
PondPack V8i includes support for a Storage Chamber System pond type which makes it easy for designers to model CULTEC stormwater chamber systems. In addition, PondPack V8i ships with CULTEC chamber data built-in so designers can select their preferred chamber type from a library – saving laborious manual data entry.
To set up a CULTEC stormwater chamber system in a PondPack project, just follow these simple steps:

Click the Components menu and select Storage Chambers
Click on the Synchronization Options button and select Import from Library:

– Select the desired CULTEC chamber from the Storage Chamber library. This library allows users to manage and customize storage chambers by type or manufacturer, and one library can be shared among many users – ensuring consistency across projects: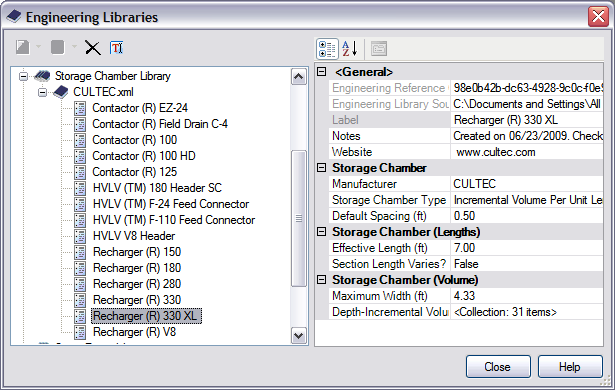 – The relevant chamber data is added to the current project: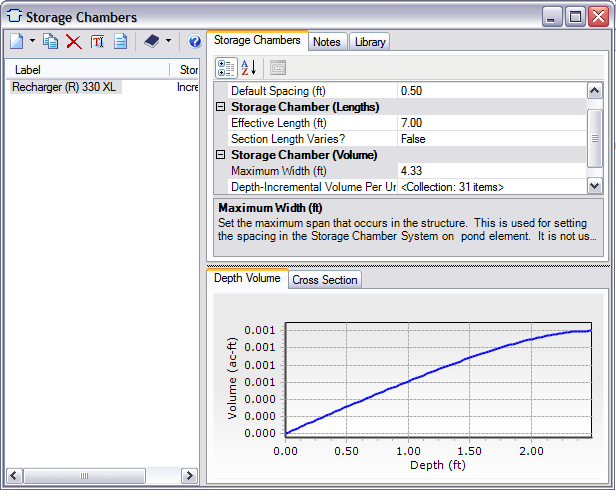 – Repeat the steps as required to add additional chamber types to the project. Close the Storage Chambers window when done.
– Click the Pond button to lay out a storage element. This can be drawn to scale over a background layer containing a drawing of the storage chamber system (e.g. a drawing created by the CULTEC StormGenie™):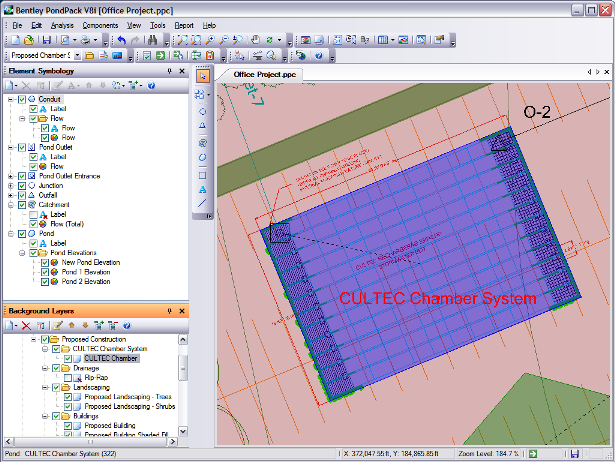 – Double-click the Pond element to open the property editor, and set the Pond Type to Storage Chamber System.
– Select the desired chamber type by choosing from the drop-down list in the Storage Chamber field, then edit the other fields as necessary: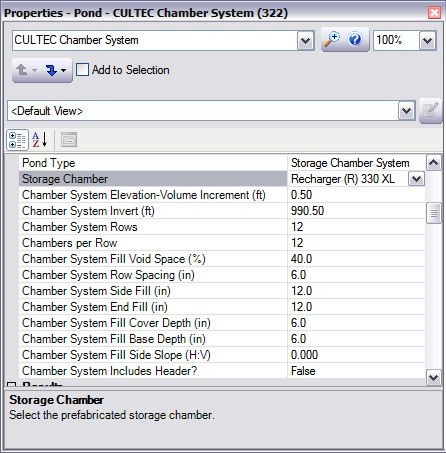 – Alternatively, use the PondMaker™ tool to help design the overall size of the storage chamber system: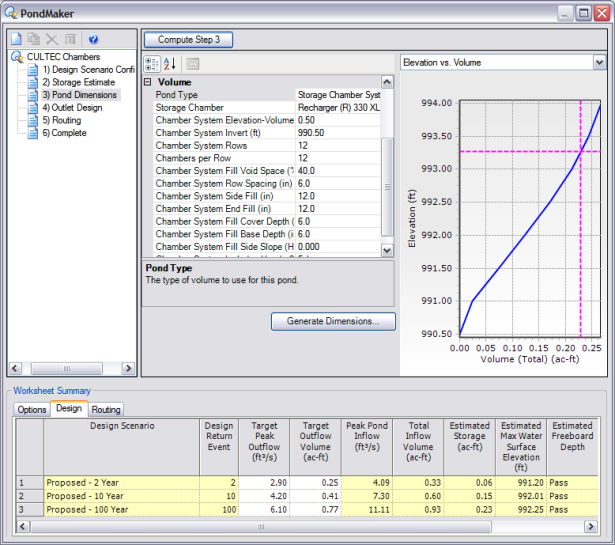 – Finish setting up the model, and then run the analysis. In this example we have a proposed office project development with a CULTEC storage chamber system installed under the parking lot. The storage chamber system ties into an existing pond, helping to reduce peak runoff rates and total runoff volumes from the proposed site: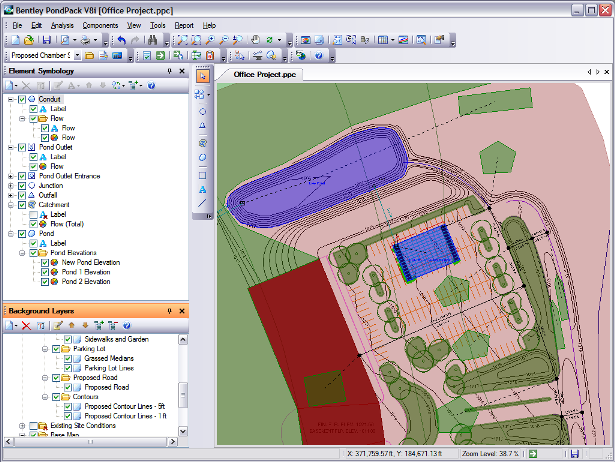 MORE INFORMATION
For more information about PondPack, visit www.bentley.com/pondpack
Bentley, the "B" Bentley logo, PondPack and PondMaker are either registered or unregistered trademarks of Bentley Systems, Incorporated or one of its direct or indirect wholly owned subisdiaries. Other brands and product names are trademarks of their respective owners.
We are able to assist you in your design by performing preliminary calculations and supplying AutoCAD layouts free of charge