Calculating CULTEC Chambers For Residential Drainage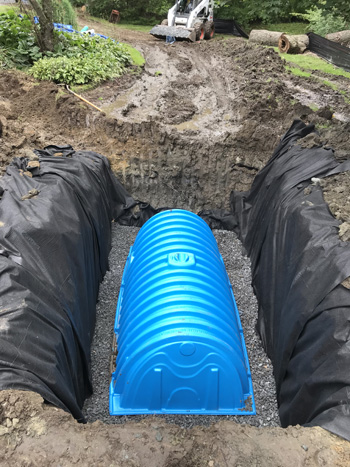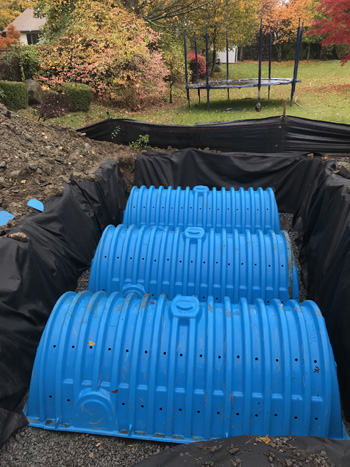 CULTEC, Inc.'s chambers may used in residential applications to control rainwater collected from gutters and/or catch basins. The chambers collect and store the stormwater underground until the soil is able to accept it back into the ground. Puddles and saturated soil are eliminated as water is diverted into the chamber and recharged into the ground. CULTEC chambers are lightweight and easily transported by hand making them ideal to install in tight areas or where minimal site disturbance is desired.
CULTEC Plastic Chambers

Control rainwater from gutters, patio, driveway and other impervious surfaces
Eliminate flooded basements and yards
Act as dry wells to contain water from sump pump, washer machine, pool backwash or water softener discharge
Large storage capacity in small footprint
Fully-formed unit containing no separate parts*
Lightweight
Can be carried by one or two people
*The Recharger 902HD requires separate end caps.
Easily transported by pick-up truck
Corrugated arch design for structural integrity
Quick and easy installation
Minimal site disturbance
CULTEC Drywell Calculator
Current version is: v.042015 rev.073118
MS-Excel spreadsheet that calculates out the number of chambers requred based on the impervious area and rainfall event which is input. These calculations are for non-traffic applications only.
We are able to assist you in your design by performing preliminary calculations and supplying AutoCAD layouts free of charge