Advantages For Stormwater
General Advantages
Approved by IAPMO Research and Testing Inc.
Click here for more information
Earn LEED Credits
Click here for more information
High Infiltrative Capability
Fully open bottom maximizes infiltration capability.
High Removal Rating
CULTEC chambers, a form of infiltration system, have the highest removal rates of phosphorous, nitrogen, lead, zinc, suspended solids and organic carbon when compared to wetlands, water quality ponds, filtering systems and water quality swales.
Structural Integrity
Similar to the aqueducts used by the ancient Romans, the arch design has proven to be one of the strongest structural engineering designs. As a more modern example, a suspension bridge is an upside-down arch with the tension cables acting as the keystone.
Chemically Resistant
HDPE is resistant to most chemicals found in stormwater run-off. HDPE is the plastic of choice for the packaging of many everyday chemical solutions such as motor oil, gasoline, carpet cleaners, and lawn chemicals. It is used for the packaging materials because of its high chemical resistance to a large spectrum of chemicals. HDPE also remains resilient in temperatures below minus 100 degrees Fahrenheit. Polyethylene is also resistant to breakdowns normally caused by road salts and sewage. Oil and gasoline are typically found in stormwater run-off from parking lots. Therefore, the stormwater products installed must be chemically resistant in order not to breakdown and cause system failures.
ISO 9001:2015
CULTEC products are manufactured according to strict ISO 9001:2015 guidelines and quality control.
Shipping
CULTEC Chambers stack on skids for easy shipping, loading and unloading. Less truckloads to receive, unload and stockpile.
For example, one truckload of Recharger 330XLHD units equals FOURTEEN truckloads of 36″ HDPE pipe. Imagine waiting for 14 trucks to arrive. And then, where are you going to put the pipe?
Stockpiling A large system is able to be stockpiled in a small amount of space. It is easy to count materials that are skidded to assure correct inventory counts. Much easier than counting several fittings and pipes. Easier to keep track of inventory.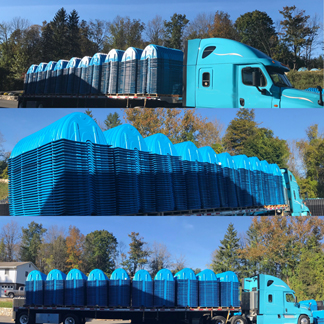 Advantages Over HDPE Pipe
CULTEC Stormwater Chambers
No maintenance is required on the chambers themselves. All maintenance is to be performed on the collective systems and/or filtering devices. Catch basins should be pumped and emptied regularly. CULTEC promotes the use of its CULTEC STORMFILTER 330 or CULTEC Separator Row to further clean the water prior to entering the chamber system. See O&M guidelines.
Although perforated pipes may be pumped and jetted, the silts and fines are only displaced from their original position within the pipe and forced into the surrounding stone backfill. Therefore, the system is still corroded. This is not an effective maintenance program.
Arch shapes are able to dissipate forces outward and reduce the effects of tension. Loads are carried outward along the curve. Stone columns on either side of the installed chamber help to dissipate the load.
Incorrect installation can lead to pipe squaring and eventual pipe failure. Proper haunching of the pipe may be difficult if not impossible thereby resulting in open spaces within the system and more probable shifting of pipes.
Space Efficiencies and Cost
CULTEC offers a variety of sizes able to accommodate almost any site constraint. Our higher profile Recharger series makes optimal usage of large storage capacities in a smaller footprint. Our Recharger chambers may be installed in a multi-layer configuration to reduce the overall land area required. A CULTEC Stormwater system is typically less expensive than equally an sized pipe system.
Able to store large volumes in relatively small areas, however, the overall cost of the system may exceed any benefits.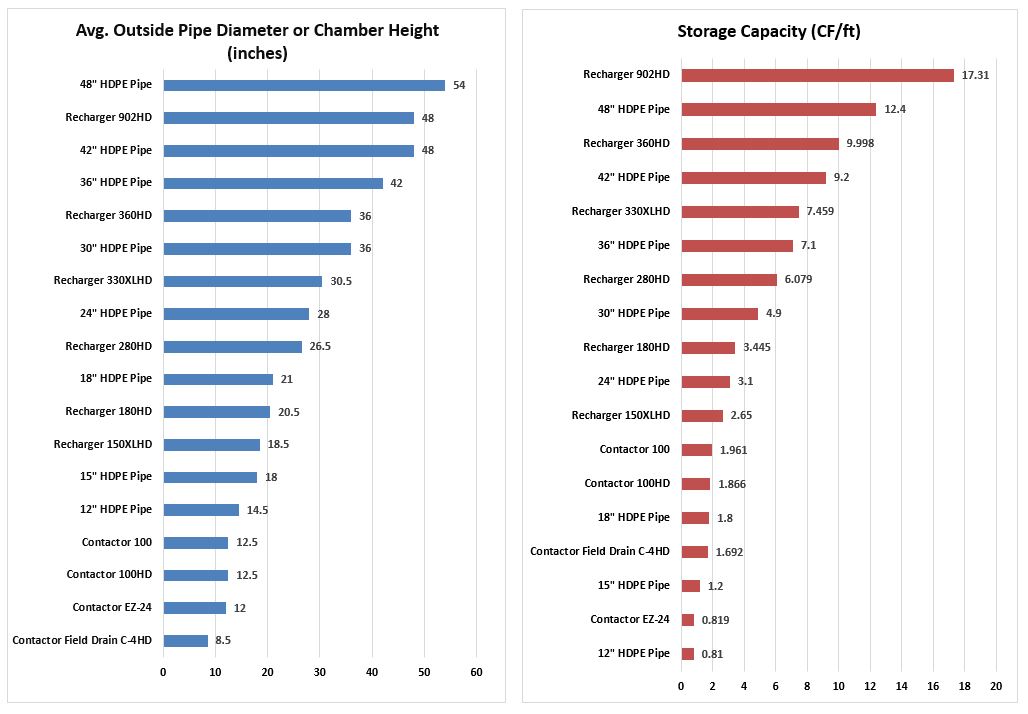 Click to view the CULTEC Chambers vs. HDPE Pipe brochure
CULTEC chambers have a greater storage capacity in a lower profile product and require less stone than HDPE pipe.
For example, a CULTEC Recharger 330XLHD chamber is 30.5" tall whereas 30" HDPE pipe has an average outside diameter of
36" – 6" greater than the CULTEC chamber.
In addition, the storage capacity of a CULTEC Recharger 330XLHD is over 52.2% greater than 30" HDPE pipe. Even a 36"
HDPE pipe (42" O.D.) can not compete with the CULTEC Recharger 330XLHD for storage capacity – 7.459 CF/ft vs. 7.1 CF/ft.
We are able to assist you in your design by performing preliminary calculations and supplying AutoCAD layouts free of charge