What's New At CULTEC, Inc.
Thank you for visiting our website. You will see many literature pieces and tools available on our Download page.
CULTEC Names Armtec LP as Exclusive Canadian Distributor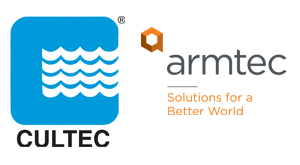 JANUARY 2018: CULTEC, Inc. ("CULTEC") and Armtec LP ("Armtec") announced that an agreement has been reached for Armtec to be the exclusive distributor in Canada for CULTEC's stormwater management products including the Contactor®, Recharger®, and CULTEC StormFilter® series of products.
Check out full press release

CULTEC Gains CSA Approval for Recharger 902HD
JULY 2017: CULTEC's largest chamber, the Recharger 902HD, has just received its third-party certification to the Canadian standard, CSA B184.2-11: Polymeric subsurface stormwater management structures. Material and structural testing was performed at the highest level to ensure lasting performance of the chambers for years to come. CULTEC is committed to providing products that meet the demands of today's industry.
Check out our listing

Personalized Stormwater Design Assistance
If automated design tools aren't your thing, we offer responsive complimentary design assistance with the personal touch you deserve. You may either contact our Technical Department directly by calling 203-775-4416 ext. 203 or by filling out our online Design Request Form. You will be assigned your own Technical Design Assistant to see your project from start to finish. Most calculations and drawing requests are fulfilled same or next day. Contact us today to see what CULTEC can do for you!

JUST RELEASED! Low Profile Chamber Installation Video at University of North Carolina
We have recently uploaded a new installation video to our Video page. The video showcases our 8.5″ high Contactor Field Drain C-4HD low profile chamber installed under athletic fields for the University of North Carolina – Wilmington. Go check it out!.
We are able to assist you in your design by performing preliminary calculations and supplying AutoCAD layouts free of charge